The House Committee on Ways and Means released its FY24 budget draft and the full House of Representatives debated and passed its proposed budget at the end of April. While the debate ultimately failed to yield any new support for food system priorities, the original draft included some significant investments thanks to years of work from food system stakeholders.
The House budget includes $25,000,000 for the Food Security Infrastructure Grant (FSIG) program, matching Governor Healey's proposal and representing the first time the program would be funded in an annual budget. A permanent FSIG would be a strong commitment to sustaining local food system enterprises, as FSIG has been oversubscribed in previous rounds of funding. It also included funding for universal free school meals, making permanent the commitment that Project Bread and the Feed Kids coalition has been campaigning for over the last several years.
Funding for HIP fell short, however, with just $15 million on offer compared to the $24 million requested by the Campaign for HIP Funding. New funding requests for food literacy, local dairy promotion, and other earmarks also were denied, as were requests for increases for the Buy Locals and MEFAP.
The budget process now moves to the Senate, where the Senate Committee on Ways and Means is expected to release its budget draft in mid-May, followed by amendments and debate. Watch the Collaborative's social media and email calls to action for opportunities to advocate for important food system resources throughout the process.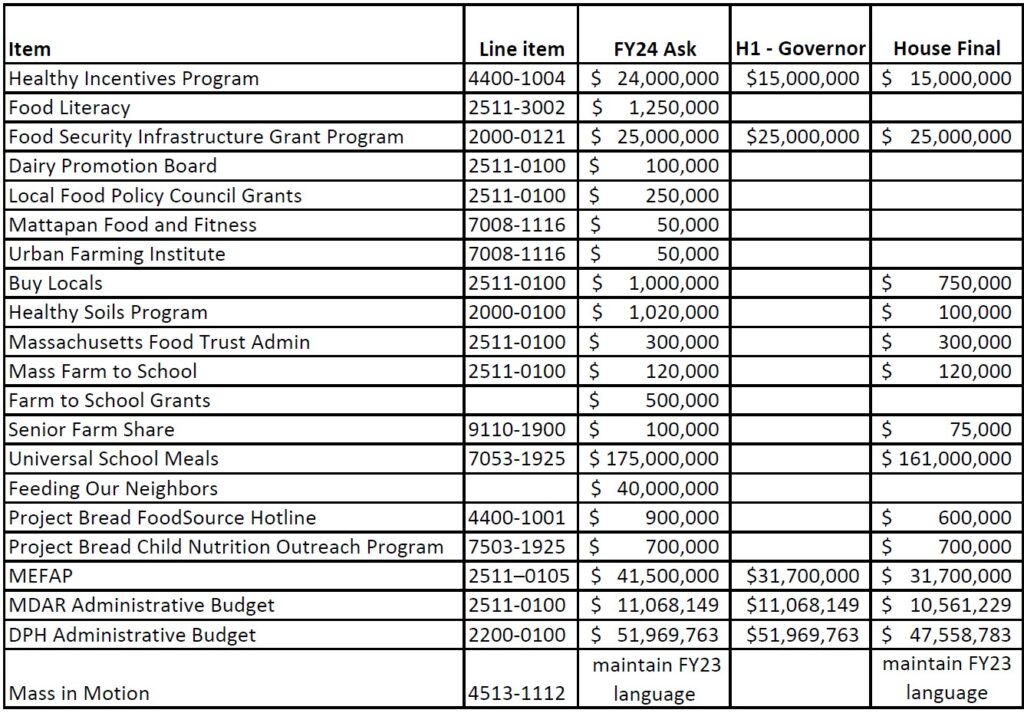 ---