The state budget process begins in earnest in April, with the release of the House Committee on Ways and Means draft proposal on April 12. This will lay out the Committee's priorities for every dollar the state will spend in fiscal year 2024 (July 1, 2023 – June 30, 2024). Large, statewide items like HIP and MEFAP are usually found in this draft.
Representatives will then have just a few days to file proposed amendments to the budget. They can propose changes to existing items, such as an increase to HIP funding, or amendments for new programs altogether, such as for the Collaborative's Food Literacy proposal. They can also file what are called local earmarks, providing funding to support projects in their districts, such as food pantries or community farms.
After amendments are filed, House members will have a week to review the budget and all of the filed amendments (there are commonly more than 1,000), and consider which amendments they will support. Representatives can sign on to, or cosponsor, as many amendments as they wish to demonstrate their support. During this week it is important to reach out to your representatives to ask them to support food system amendments important to you. The Collaborative will provide a list of some of these early that week, and will host a budget advocacy training webinar on April 18 at noon (register here).
The following week, in both closed-door and open sessions, the House will debate all of the amendments under consideration for inclusion. Some may be rejected without any debate, while others may result in significant dialogue. By the end of the week, often after several long nights of debate, the House budget will be finalized.
The Senate will follow much the same procedure in May. April is a good time to let your local senators know what food system organizations in your community need support, as they consider what local earmarks they will file.
Following the Senate's process, the two chambers must reconcile any differences in their two bills to come to an agreed upon budget to send to Governor Healey for her review. She then has two weeks to review and sign the budget, or to veto all or parts of it. The current fiscal year ends on June 30, so the new budget is required to be in place by July 1, unless all parties agree to an extension, which happens often.
Below is a table of food system budget items we anticipate will be under discussion in the House in the coming weeks. We will update the table as more information becomes available.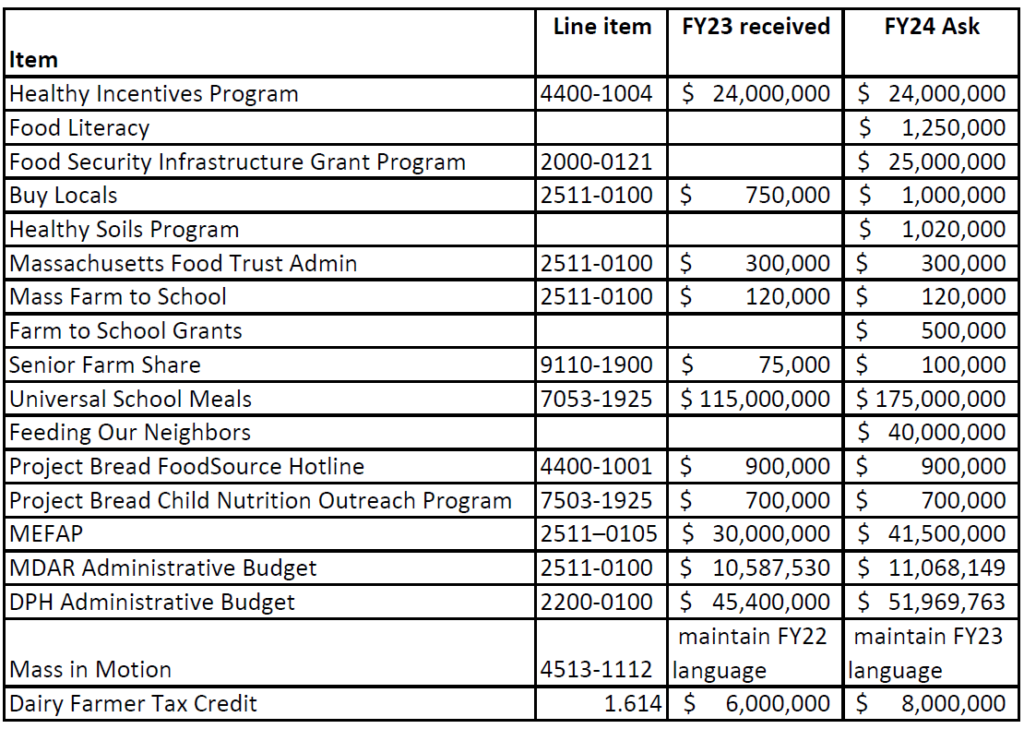 For more information about how to support these asks, see these organizations/resources
---