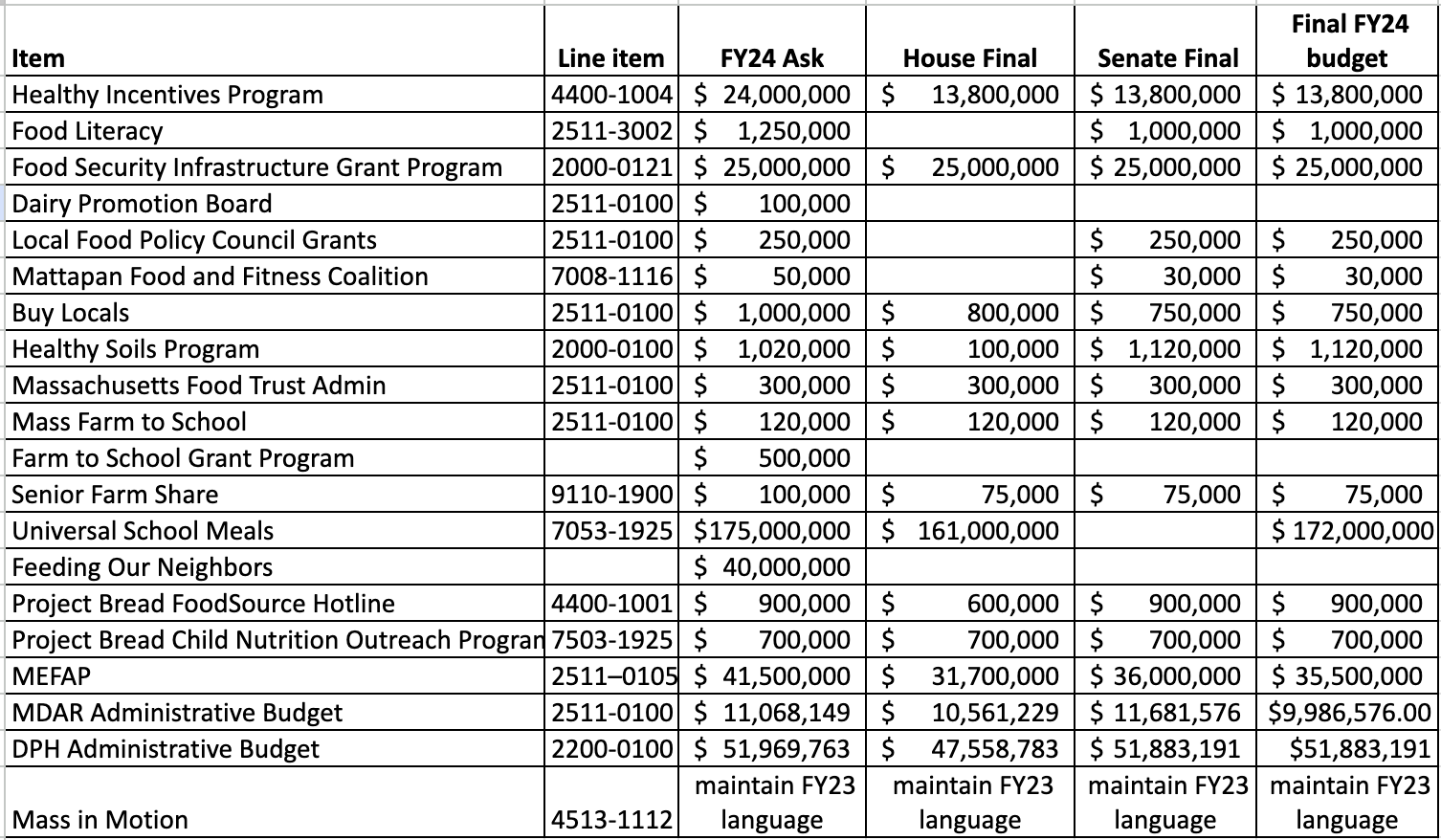 The fiscal year 2024 budget has been signed by Governor Maura Healey into law! This year's budget includes several important wins for a sustainable, equitable, resilient food system. The Food Security Infrastructure Grant program is funded for the first time in the annual budget at $25 million, signaling a strong commitment from the Governor and legislature to make the program, which helps food system business and organizations purchase infrastructure needs to better serve everyone in their communities, permanent for the first time. The local food policy council grant program was funded at $250,000, creating another round of funding for councils which work collaboratively to strengthen local food systems. Thanks to great advocacy from the Campaign for Food Literacy, $1 million will go toward coordination between DESE and MDAR, funds for field trips, and a pilot program to enable several districts to hire food literacy coordinators. The Healthy Soils Program was funded for the first time with $1,020,000, thanks to NOFA-MA's advocacy after the release of the Healthy Soils Action Plan. 
We were pleased to see permanent, universal free school meals included in the budget, thanks to the work of the Project Bread and Feed Kids campaign! Language establishing a commission to study school food nutritional quality was also included, along with a requirement for DESE to produce a report on school food waste.
All of these wins are a strong signal that the support in the legislature for a sustainable, resilient, equitable food system remains high, thanks to your advocacy. However, we remain deeply concerned that the amount for HIP will not be enough for the program to operate for the entire year, as it was funded at a little under $14 million, with $5 million in new funding and a roughly $8.8 million carryover. The program spent $15.1 million in incentives in FY23.
---