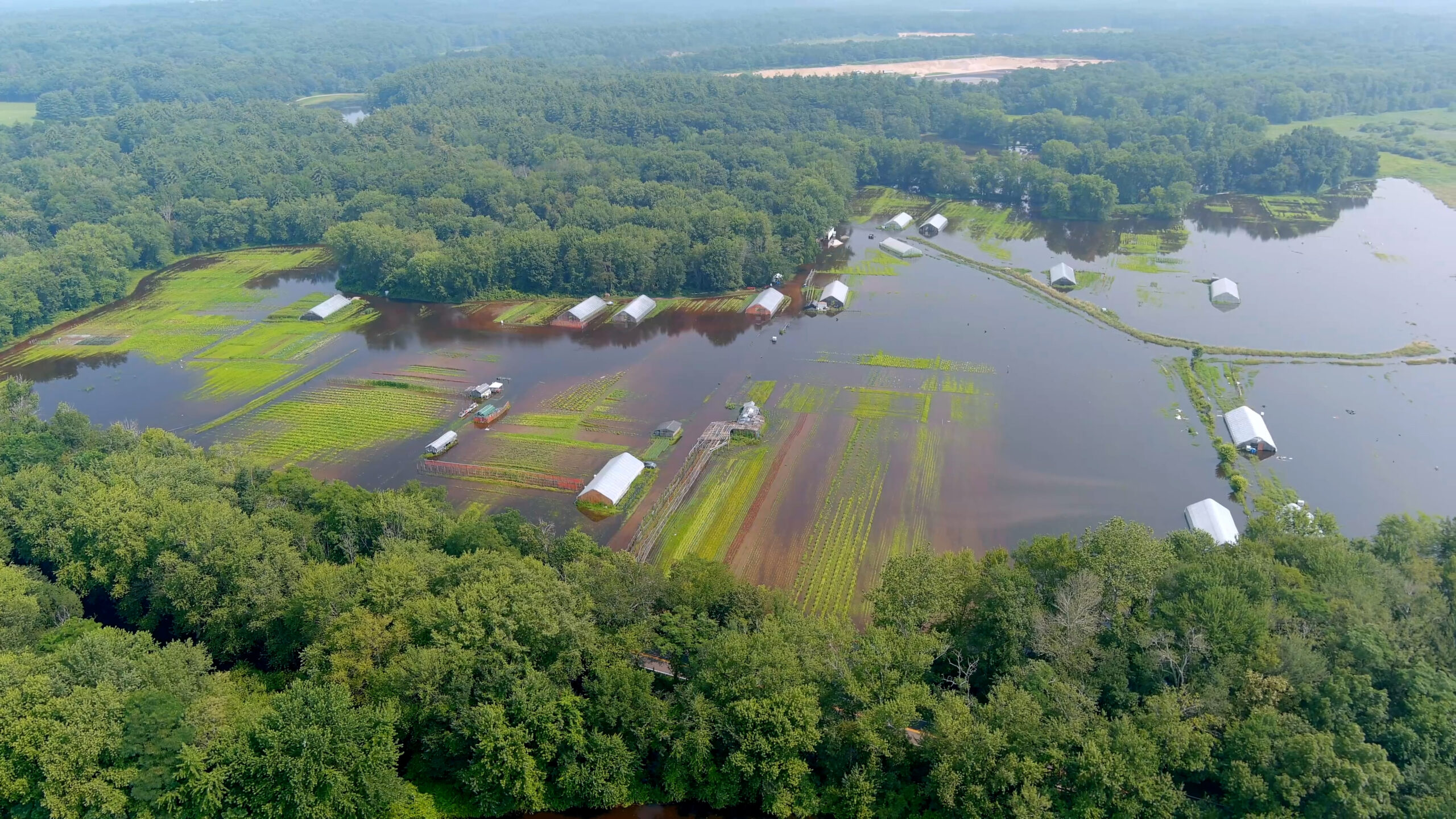 This growing season has been particularly hard for farmers across the state. This summer's frequent storms led to saturated soils and flooding in the Connecticut River Valley and central Massachusetts in mid-July. Subsequent floods during the following days added to the existing damage. What used to be once in a generation flooding is now a more regular occurrence. Deep climate resilience in public policy is needed, as farmers are on the front line of climate change and the transition to a green future must include them. July is an especially devastating time for floods because many farms were ready, or a few weeks away from bringing crops to market like sweet corn, tomatoes, and culturally relevant foods that are almost impossible to find in conventional grocery stores. This is the third extreme weather event farmers have dealt with this year, after a subzero deep freeze in February and a late frost in May killed fruit tree crops, greatly reducing the harvest of peaches, nectarines, cherries, and some apples.
The effects of these floods are felt deeply; small farmers and community gardeners have lost everything, impacting their household food security, and larger farmers have lost a significant portion of their acreage, potentially making their whole crop unmarketable and calling into question how they will pay their loans this year. According to MDAR, at least 110 farms have been affected by the floods, covering 2,700 acres, and totaling at least $15 million in damages. Each of these affected farms are economic drivers, as farms buy local services and goods, and sell directly to consumers, grocery chains, and institutions, keeping money circulating locally.
More extreme events will occur with continued climate change. Many farmers that were affected by this weather also participate in programs like the Healthy Incentives Program, the Massachusetts Emergency Food Assistance Program, Local Food Purchase Assistance grant program, farm to school programs, and more. These events have reduced the food that will move through these programs. 
The supplemental budget was signed into law by the Governor on August 1st and includes $20 million for farmer relief! This funding will be available as grants to cover crop losses by farmers affected by floods, deep freeze and late frosts, and will be jointly managed by MDAR and the Executive Office of Administration and Finance. The Collaborative deeply appreciates Senator Jo Comerford, Senate President Karen Spilka, and Ways and Means Chair Senator Michael Rodrigues and Rep. Natalie Blais for their work and understanding of how vital this funding is and farmers for their advocacy. The Collaborative will monitor implementation to ensure equitable allocation of funds, as state grant programs have not always been accessible in the past to small and BIPOC farmers. This funding will be available as grants to farmers affected by floods, deep freeze and late frosts, and will be jointly managed by MDAR and the Executive Office of Administration and Finance.
Additionally, the Massachusetts Farm Resiliency Fund has been set up in partnership between state government and the United Way of Central Massachusetts, led by CEO Tim Garvin. This fund is actively accepting donations. State government recognizes that additional loans are not a viable option for farmers that already have loans keeping them up at night, and have structured these funds accordingly as grant opportunities.
MDAR has also set up this webpage with information about crop testing, TA and other resources available to farmers. Please reach out to MDAR if you have not already shared your losses.
This will be a long-term recovery process, as mold and plant disease are setting in. Farmers in a good year make $0.96 for every $1 they invest in their business, a national outlier. Over the coming months and years, the Collaborative will work to engage food system stakeholders on what a stronger safety net for farmers could look like, how to mitigate climate change's effects, and how to prepare better for the next extreme weather event, leading to create more equitable policies that shift the food system to a sustainable future. Some of the Collaborative's previous work on the intersection of climate change and agriculture focused on advocating for changes to state and local policies and programs, including increased funding, greater interagency collaboration, and more significant attention to agriculture in state legislation on climate change.  
Through this devastation, farmers have shown to be resilient optimists on visits with state lawmakers, agency staff, and supporting organizations. The Collaborative deeply appreciates the work each farmer in the Commonwealth does as it is the bedrock of an equitable, sustainable, resilient food system. 
Image of World Farmers' land in Lancaster.
---