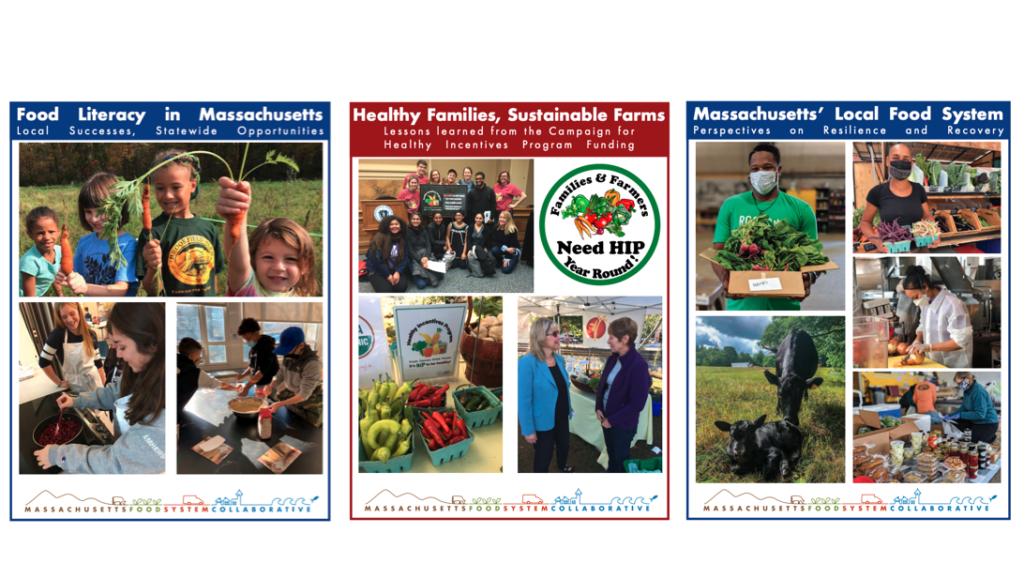 The 2022 MA Food System Forum took place on Wednesday, October 12 at the Sturbridge Host Hotel & Conference Center, located at 366 Main St in Sturbridge, MA. Please reach out to Brittany Peats at [email protected] with any questions.
Thank you to our 2022 MA Food System Forum Sponsors.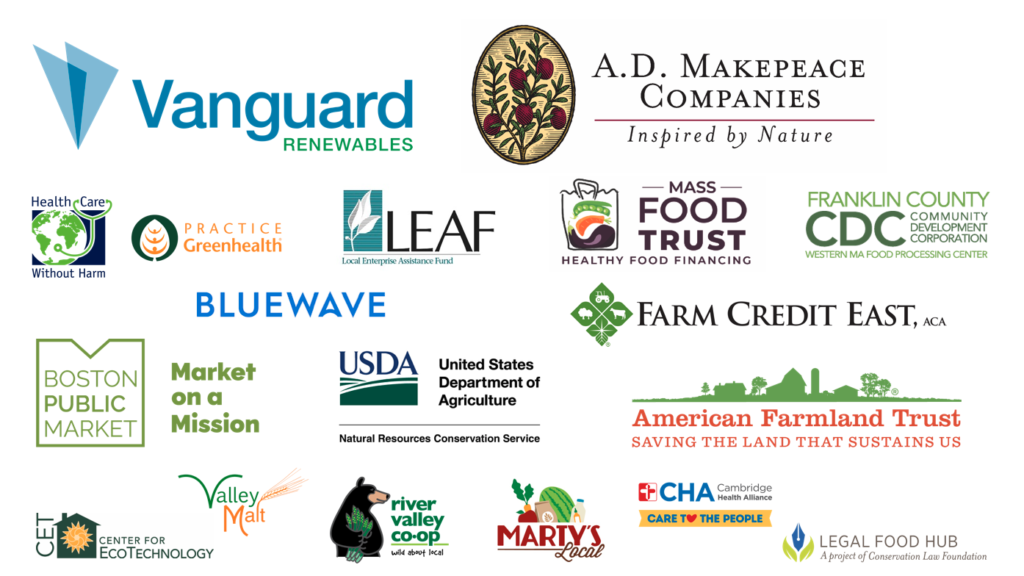 Agenda
8:30am – Check in, Breakfast & Networking
9:00am – Welcome
9:30am – Networking
10:15am – Morning Workshops — Celebrating Successes
12:00pm – Lunch & Networking
1:45pm – Afternoon Workshops — Planning for the Future
3:30pm – State Policy Advocacy
Workshops
Sustaining agriculture: production management practices
More people have been buying local food due to increasing interest, incentive programs, and disruptions in the supply chain. At the same time, new ways to farm have emerged. Hear from farms, urban agriculture organizations, local processors and others who have used networking, made new investments, and adopted different management practices to strengthen local agriculture.
Brittany Overshiner, Upswing Farm
Keith Wilda, Blue Stream Aquaculture
Apolo Catala, Oasis on Ballou
Caro Roszell, American Farmland Trust
Inequity in agriculture: What is it and how do we address it?
Many policy groups, nonprofits, and institutions have begun to prioritize racial equity in their programs and principles – and with good reason! Considering equity has positive social and economic impacts in all fields, and agriculture is no exception. But what does equity 'in action' look like in grassroots work, in institutions, or in farming? This session will engage practitioners and participants in a discussion about what it looks like to commit to racial equity in agriculture, and the impacts it can have.
Hameed Bello, Agric Organics
Ludia Modi, The Food Project
Rebecca Davidson, Mass Department of Agricultural Resources
Between the farm and the plate: Supply chain innovations
Keeping supply chains short has many benefits, including supporting the local economy, preserving farmland, and increasing trust in food safety. But they can be difficult to make efficient or cost effective. Some Massachusetts businesses, institutions, and nonprofits have used creative methods to process, distribute, and sell local foods. This session will highlight some of those examples, and discuss the challenges they overcame and continue to face.
Shon Rainford, Worcester Regional Food Hub
Sheldon Lloyd, City Fresh Foods
Samaita Newell, Fruit Fair Supermarket
From the front lines to no lines: Emergency services and systemic solutions to food access
Food insecurity continues to remain high due to the ongoing pandemic, recession, and impacts of inflation. In response, many community based organizations have engaged in state and federal level policy advocacy work, leading to increased food access for the most marginalized and moving away from emergency triage to systemic solutions. This session will highlight some of the successes of recent food access advocacy efforts, and help plan for continued equitable food access.
Catalina Lopez Ospina, Project Bread
Pat Baker, Mass Law Reform Institute
Melanie Wilk, Chicopee Public Schools
John "J.R." Rivera, Holyoke Farmers Market
Inputs and outputs: Enhancing natural resources in the food system
Every part of the food chain uses energy and creates waste. As energy prices increase and environmental concerns grow, farmers, processors, policymakers, and consumers are all looking for ways to reduce fossil fuel consumption and implement renewable energy solutions, as well as opportunities to divert excess materials from the waste stream. This session will feature farmers and researchers who are working to increase energy efficiency on farms as well as a compost operation that is converting food scraps into a nutrient dense soil amendment.
Stephen Herbert, Stockbridge School of Agriculture
Jeremy Barker-Plotkin, Simple Gifts Farm
Andrew Brousseau, Black Earth Compost
Expanding food system education in K -12 Schools in MA
The Collaborative is launching a campaign to expand food system education – including agriculture, nutrition, food justice, and culinary skills – in K – 12 schools in Massachusetts. We'll hear from educators who are teaching science, history, biology, and nutrition through the lens of food and we'll work to refine our legislative asks to ensure that this type of creative and critical education is available to all students.
Anna Cynar, Innovation Academy Charter School
Jessica Lander, Lowell Public High School
Michael Skillicorn, Grow Food Northampton
Massachusetts farmland: Protecting the resource, ensuring access for all
Massachusetts has been a national leader in promoting farmland protection and access for decades. But significant investments and strong policies have not kept pace with development and other threats, those efforts have not done enough to increase equitable access for BIPOC farmers, and the state has lost farmland at an alarming rate. A newly developed Farmland Action Plan engaged hundreds of people in proposing investments, policies, and programs to better ensure that this resource is better protected and that equitable access is ensured. This session will highlight elements of the plan and discuss how its recommendations can be implemented effectively.
Winton Pitcoff, MA Food System Collaborative
Jamie Pottern, American Farmland Trust
Mohammed Hannan, Hannan Healthy Foods
Ryan MacKay, Lilac Hedge Farm
Sustaining local food system businesses
For food businesses to remain sustainable and competitive, every dollar counts. Business planning, creative finance options, and ongoing business technical assistance help farms and food businesses remain viable in volatile markets. This session will discuss the importance of integrating business planning to ensure success, and highlight some of the resources available to farmers and other food businesses to do so.
Raymond Lanza-Weil, Common Capital
Myra Marcellin, Community Involved in Sustaining Agriculture (CISA)
Henrietta Isaboke, World Farmers
José Luis Rojas, LEAF
How food policy councils can engage with municipal and state policy
Over a dozen food policy councils in Massachusetts bring people together to create relationships, share information, and advocate to improve the local food system. Three leaders of councils will share how they have engaged in policy and how they have communicated about the value of their council. We'll discuss how these groups can continue to influence municipal and state level policy.
Rochelle Belin, Just Roots and Franklin County Food Council
Christine Smith, Southcoast Food Policy Council
Dimple Rana, City of Revere
The MA Urban Agriculture Coalition's next steps
The urban agriculture coalition has met over the past two years to build relationships and share skills. This group discussion for practitioners will discuss where we want to go next. What additional supports do urban food producers need? What policy changes do urban agriculture practitioners need to support their work and build a more sustainable, equitable, resilient food system?
Liz O'Gilvie, Gardening the Community and Springfield Food Policy Council
Becca Miller, MA Food System Collaborative
State Policy Advocacy
Learn from a legislative advocate and a MA state representative about how bills are introduced and how stakeholders can help them become law.
Alexis Walls, Assistant Campaign Director, MA Public Health Association
Representative Natalie Blais
---