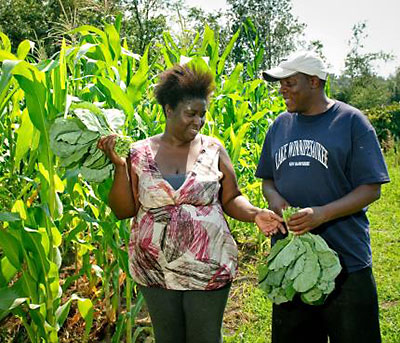 The Ag Equity Network is made up of and led by Massachusetts farmers who identify as BIPOC. The Network advocates for state public policy that supports equitable land access, jobs, education, and other resources that are vital for BIPOC farmers to be sustainable in their businesses, and for the food system in Massachusetts to be more equitable. BIPOC farmers account for roughly 2% of farmers statewide, but smart public policy can help increase that number.
Highlights of our work
SD.611/HD.498, An Act Promoting Equity in Agriculture 
The Network helped craft a bill to address core areas of equity in Massachusetts's agricultural landscape. The bill will create a commission comprised of BIPOC farmers and leaders that would look at:
Policy recommendations that support racially equitable investments and practices;
Resource and program accessibility of current programs; and
Recommendations related to equity in existing laws and regulations.
See the bill's progress here.
CAFE (Coalition for Agriculture & Food Equity) Chats
The goal behind CAFE chats is to provide a forum for the Network members to discuss important issues relevant to equity in agriculture and to build relationships among each other. Ultimately, the conversations guide the Network's direction in regards to policy, programming, and advocacy, and ensure the network is grassroots based. CAFE sessions are held bi-monthly, and all members are encouraged to attend.
The network grows day by day, and includes more than 30 BIPOC farmers, organizations, and leaders from across the state. While newly launched, there is growing recognition of the value and importance of this effort. If you are interested in participating, contact Norris Guscott at [email protected].
Being an Ally: Collaborating with and Empowering BIPOC Partners
In well-intentioned efforts to provide assistance, ally organizations face issues around partnerships, stake-building, and communication with BIPOC communities, farmers, and the organizations that support and represent them. The Ag Equity Network draws on its vast network of successful BIPOC farmers, organizations, and leaders to provide impactful, relevant, and up to date strategies to support partnerships with BIPOC partners.
Our most recent workshop was held on December 9 during the Collaborative's 2021 Food System Forum, attended by more than 80 people from public and private institutions and organizations. Post-session feedback was overwhelmingly positive, with participants indicating that they are actively implementing strategies in their work.
Watch a video of the workshop here.
Providing feedback on proposed policies and regulations
Letter submitted on 2/17/2023 in response to call for public comment on draft environmental justice policies.
Resources
Data showing national and state disparities for BIPOC farmers:
Readings:
Other important organizations:
---