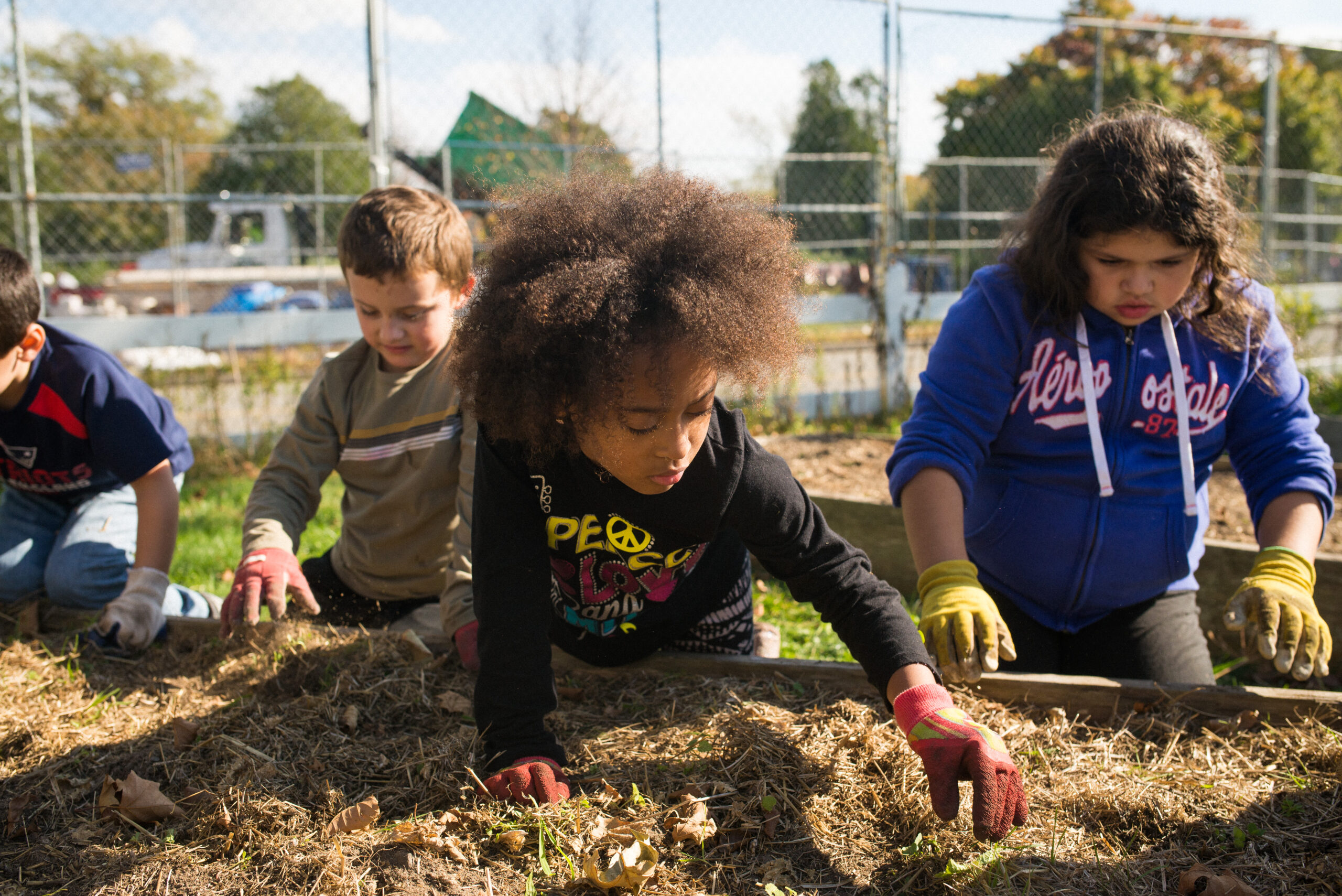 To help Massachusetts children grow and lead healthy, independent, thoughtful lives, all students in grades K – 12 should have access to food system education in school, learning about agriculture, nutrition, food justice, and culinary skills. In doing so, they will learn critical life skills and will be better able to make decisions about food that are informed by an understanding of how those choices impact their body, their community, and the environment.
Many students throughout the state are already learning about the food system in science, social studies, wellness, culinary arts, horticulture class and others, as well as in the cafeteria, school garden, and the community. Since all students have a personal connection to food, these hands-on lessons resonate with them and allow them to deepen their understanding of core subjects. Students also learn essential skills such as how to prepare healthy meals for themselves. These lessons often incorporate discussions about inequitable access to food and the environmental impact of agriculture, providing students with opportunities to engage in making positive change in their community.
But not every student in Massachusetts has access to high-quality education about the food system. Because food literacy is not included in most state frameworks or tested by the MCAS, it can be challenging to include these concepts in the curriculum, particularly since many teachers are already overburdened by requirements. Teachers have reflected that they find it difficult to locate up-to-date and engaging lessons about food, and many feel they don't have enough of an understanding of the food system to offer lessons. Some of the strongest food lessons are interdisciplinary but teachers from different departments, and food service staff in particular, may have trouble coordinating lessons or finding the funding for the needed materials.
To ensure that all students have access to food system education, decision makers, school administrators, teachers, parents, and students should agree on the importance of teaching food literacy in schools, and collectively work to implement solutions. Food concepts should be included in the state standards, including those regarding health, social studies, and science. State agencies and nonprofit support organizations should share information, set goals around food literacy, identify program gaps, and create a central resource for lesson plans, professional development, and grants for educators teaching food literacy. To ensure that these programs are comprehensive and sustainable, coordinator positions should be funded at the state and district level.
Successful models of classroom food literacy work abound in Massachusetts. Building on those successes to ensure that all students graduate with an understanding of where their food comes from, how to feed themselves healthfully, and the role they can play in ensuring a sustainable and equitable food system can have a transformative impact not just on the students themselves, but on their families, their communities, and the Commonwealth as a whole.
To read the full report, click here.
For more information, please reach out to Brittany Peats at [email protected].