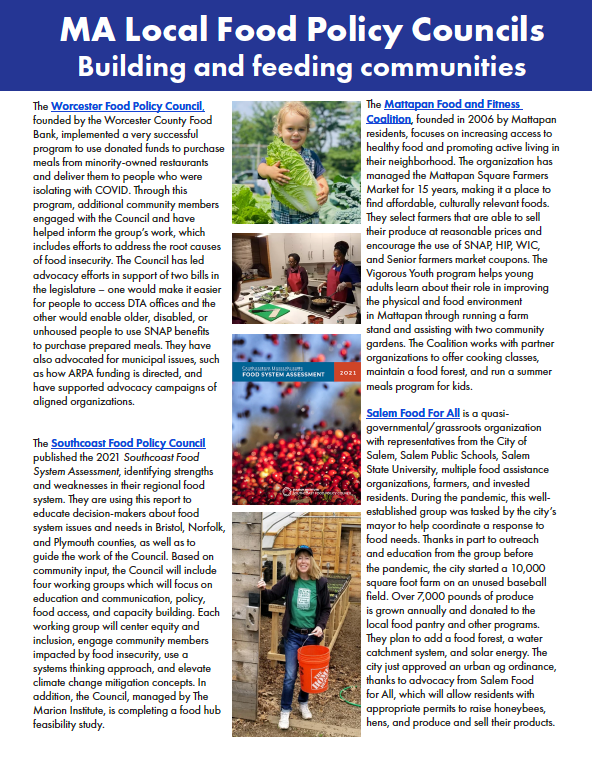 The Senate is now considering amendments to the FY2023 budget, including the amendment to provide a grant program for food policy councils. Please email or call your senators by this Friday and ask them to co-sponsor Amendment #34. We have created this one-pager about some of the wonderful work that food policy councils have done around the state. Here is a script:
Hello Senator —,
My name is —- and I am part of the —– Food Policy Council in —– . I am reaching out to urge you to support amendment #34 in the Senate Budget. Around 20 food policy councils exist across the state and they work, often without funding, to help address food insecurity at the regional or city level. These councils bring together public health organizations, food pantries, urban ag groups, food rescue, institutions, schools, farmers, and people experiencing food insecurity to share information and strengthen their communities.
Our food policy council has — [Include your own highlights. Include any of these if they are relevant: completed a Community Food Assessment; coordinated information sharing, and a operated a food assistance program during COVID; removed barriers to urban agriculture; supported healthier schools; closed the SNAP Gap through education and outreach; engaged residents to help strengthen their community. If your council is in the planning stages, feel free to include what you'd like to do.]
Food policy councils need funding to continue to do their important work. Additional funding would enable our council to — [Include your own plans. Include any of these if they are relevant: increasing staff to coordinate our work; provide stipends for community members to participate; create an outreach strategy.]
Thank you for considering supporting amendment #34 to strengthen local food policy councils. To learn more about Food Policy Councils in Massachusetts, please see the attached one-pager.
---