The Massachusetts House of Representatives passed its budget on April 27. It includes many investments that reflect advocacy on the part of food system stakeholders, including funding for a full year of universal school meals, support for Buy Local organizations and MEFAP, and a commitment to continue funding HIP program growth.
Numerous amendments were filed by the Collaborative and other food system organizations, in an effort to direct funds to a range of priorities. Many local earmarks were funded, providing support for a range of nonprofit food security organizations and other nonprofits. Most are listed in this amendment.
An amendment prioritized by the Collaborative for resources for UMass Extension received $75,000 of the requested $620,000. Others were passed over entirely, including a grant program for local food policy councils, resources to staff a food system coordinator position, and additional funding for MDAR. Each of these asks received several dozen cosponsors thanks to advocacy from stakeholders. See below for a table reflecting food security budget priorities in the budget.
The budget process now moves to the Senate, where the Committee on Ways and Means is expected to release their draft proposal on May 11. Amendments will be filed shortly thereafter, and we will share calls to action when Senators should be contacted to build support for priority amendments.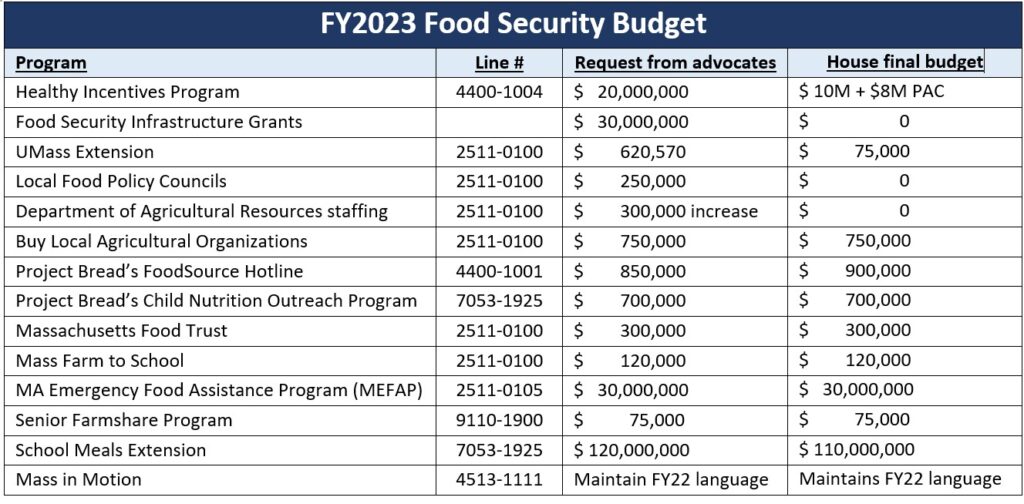 ---