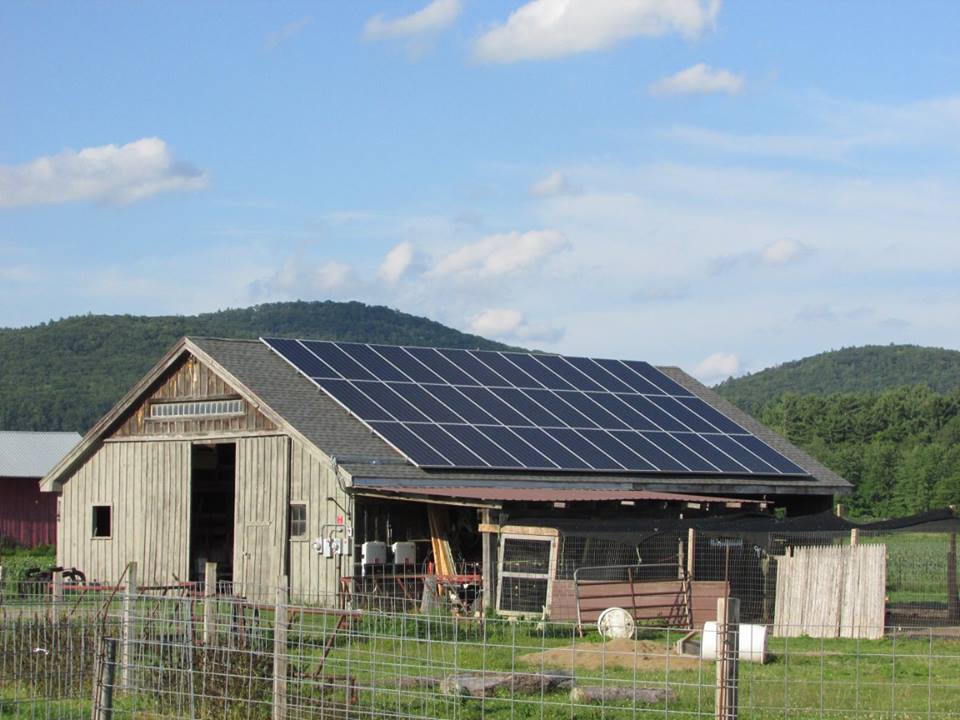 The food system and climate change are deeply entwined issues. From farming and fishing, to processing and distribution, to food waste and public health, every part of the food chain relies upon and impacts natural resources that, in turn, are related to climate change. The Massachusetts Local Food Action Plan highlights these connections, and calls for the state to consider the local food system when developing laws and regulations related to climate change. Support for local food can help mitigate negative impacts on the environment, and carefully crafted climate change policy can help protect the local food economy, and public health as well.
The Massachusetts House and Senate have each passed broad climate change bills this session, and are now working to develop a consensus proposal to send to the governor. Both the House's bill 4933: An Act creating a 2050 roadmap to a clean and thriving commonwealth, and the Senate's bill S2500: An Act setting next-generation climate policy, are complex pieces of legislation that work toward meeting the state's 2050 net zero carbon emissions goal. Each has implications for the local food system.
The Plan makes a number of recommendations on actions that are addressed in these bills, including:
Revisions to the state building codes, which are better addressed in the Senate bill.

Providing support to farmers for eco-services. These might be facilitated by market-based compliance mechanisms if properly formatted. They would be more likely to be created if required, as in the Senate bill, verses allowed, as in the House bill.

Requiring significant input and partnership with the farm and fishing sectors to ensure that regulations are effective, science-based, and feasible.

Keeping taxes on food producers low in order to create economic viability while still encouraging environmental sustainability.

Closer attention to land use planning around agricultural and working lands, which is stronger in the House bill.
While some farm representation is included in the committees and commissions formed by both the House & Senate bills, the House creates a more robust connection for agriculture (though fisheries are not represented), but creates a weaker process for input and advocacy around implementation. The Senate's independent agency would likely have greater capacity for input and advocacy around implementation, however as written it has much less representation from the farming and local food producer sectors. The Senate's independent agency, with stronger representation from the food system sector (farming, fishing, food production) would be the ideal combination and better meet the food Plan's goals.
The Senate takes a more detailed approach to directly reducing greenhouse gas (GHG) emissions with specific actions and sector sub-limits. The Senate bill requires that all plans be comprehensive, clear, and specific; that they cover all GHG emitting substances; that market based compliance mechanisms are implemented; and that a new body, the Climate Policy Commission, be established independent of the legislature and administration. The Commission will have broad representation and an advisory board to help the administration create policy and to track, monitor, and make recommendations related to progress on meeting goals.
The House version leaves much of the details up to the Administration, places much of the control in the Administration, and requires a quantitative evaluation of benefits. The House bill requires a 2050 roadmap plan, with proposed policies, regulations, and legislative recommendations; requires plans to be technologically and economically feasible and updated every five years; and identifies a subset of emissions, called GHG priorities, that come under compliance mechanisms, provided such are adopted. The House bill also creates a Future Utility Grid Commission to make recommendations for modernization, and creates a land use commission to make recommendations for responsible use of farm and forestland for solar energy.
The bills are now in conference committee, where representatives from the two chambers are working on a reconciled proposal. The Collaborative recommends you make your opinions and concerns known to your elected officials.
In addition to the items that are directly related to food, a number of provisions in the bill are tangentially related, but have the potential to have significant impact on the local food system.
The Senate bill requires revision of state building codes and building energy use reporting, with support for low-income persons & communities while the House creates a study committee for changing building codes with a focus on low-income persons and communities. Both require expansion and updates to the state board of Building Regulations and Standards. Housing, especially farm worker housing, is addressed in the Local Food Action Plan. As a result, legislation that impacts the building codes and low income supports bears attention and input from food system stakeholders.
The House bill creates some specifics that the Senate bill does not address, such as allowing excess energy to be assigned to any customer in the state. It removes the 20-year property tax exemption for renewable energy systems and replaces it with exemptions only for those that produce less than 125% of the owners power needs, and adds exemptions for fuel cell systems. The House bill runs counter to Plan recommendations that call for tax relief and farmers being able to derive income from using their land for renewable energy purposes.
The House bill also addresses setting and enforcing new efficiency standards for a wide range of residential and commercial equipment, from ovens and dishwashers, refrigeration units, to commercial and residential water flow limits for just about every plumbing fixture, including sprinklers and showers and the valves themselves that control them. Setting these limits legislatively prior to working with the food sector is contrary to the Plan recommendation to seek out input from the sector in generating laws and regulations. It may also reduce the ability of food system enterprises to address food insecurity, ensure equity, and reduce food waste.
If you have questions or want more information, contact Jeff Cole at [email protected].
---